A look at The Montgomery Fund's future « ROGER MONTGOMERY
September 14, 2022
A look at The Montgomery Fund's future
With Sean, Alan and Dan, from Australian Eagle, having now planted their feet firmly under the desks here at the Montgomery offices in Castlereagh Street, I thought it was time I share some more of the reasoning behind our partnership.
Change has occurred at Montgomery, and it is 'change' that marks a difference between the approach now employed at The Montgomery Fund and elsewhere.
The similarity in the investment philosophy and process between our organisations has been a source of great comfort for me. For anyone who has read my book Valuable understands I cannot divorce myself from the certainty of the importance of investing in quality, value and prospects, which are also components of Sean and Alan's approach.
There are of course differences. One distinctive difference is the approach to a company's 'prospects.' Sean, Alan and Dan, focus particularly on the identification of 'change' occurring in a company that will lead to a closure of the gap between price and value, as more investors recognise the developing improvement or acceleration.
I believe it is this identification of improvements in a company's economics, market share, or growth and prospects (among many others), the market might have missed or is awaiting more assurance of, that has established the very impressive return track record Sean and the team have generated for clients over 17 years.
Table 1.  The track record of the team now managing The Montgomery Fund.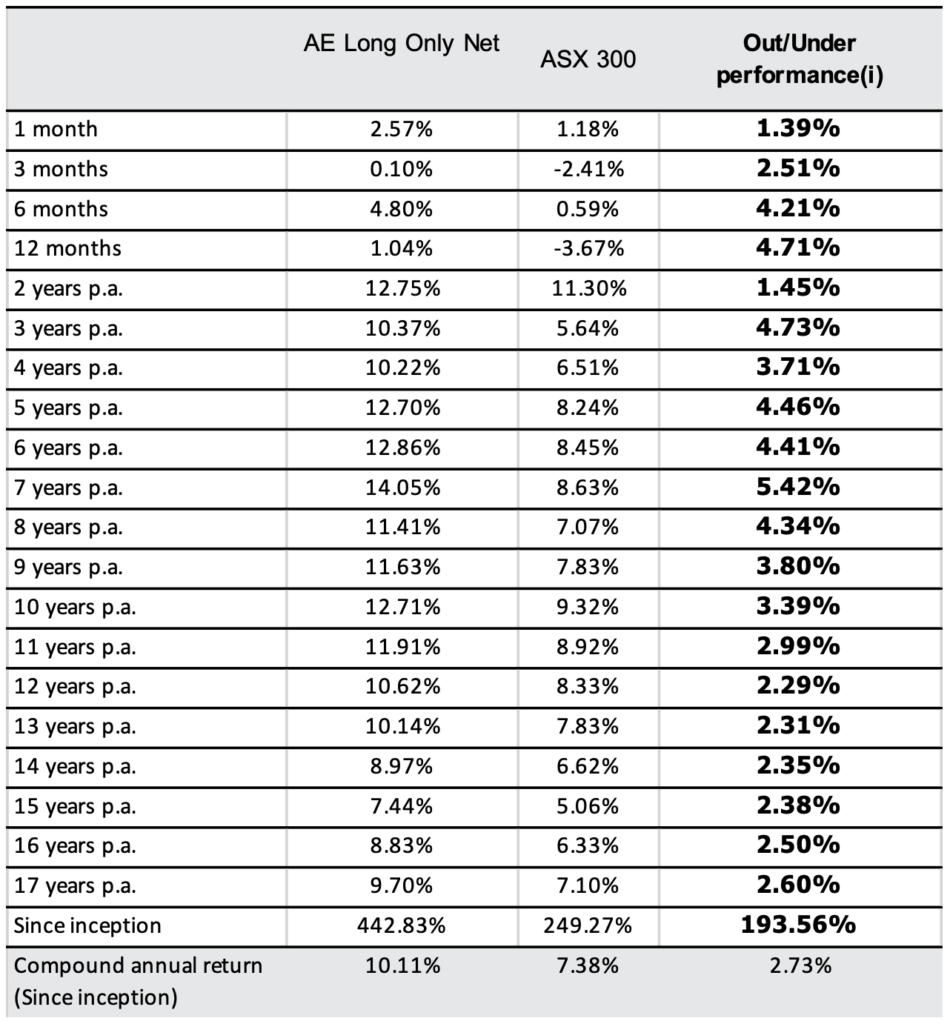 Source: Montgomery/Australian Eagle to 30 June 2022.
Performance is based on the actual gross performance of the Australian Eagle Long-Only Equity fund managed by Australian Eagle since 7 February 2005, adjusted for fees and assumes all distributions are reinvested. Effective 12 September 2022, The Montgomery Fund invests using the identical strategy to the Australian Eagle Long-Only Equity fund and is advised by the same investment management team managing to the same investment objectives. Past performance is not a reliable indicator of future performance.
I am sure, you are as impressed as I am with the team's track record.  I believe it comes down to change.
Markets are extremely good at 'nowcasting.' Nowcasting is the act of extrapolating the present into the future. We all tend to think the way things are now is the way things will continue to be. Investors, indeed people in general, are therefore less successful at forecasting turning points or change. A barrage of often irrelevant news flow can dull an investor's ability to discern what is important and meaningful. And more often, investors simply disbelieve the change is occurring until it has transpired – until there's proof.
Additionally, we tend to forecast through our own narrow lens. The real vision of course lies in seeing connections.  After all, as Wired Magazine once observed "progress is individual, personal, and in the eye of the beholder."
We have all experienced a 'suspicion' change was occurring in some aspect of our lives, but when it comes to investing, we have often preferred to wait further confirmation or evidence. The consequence is the market often fails to 'price in' emerging change, providing upside through exploiting the resultant gap between price and value.
Some of the changes Sean, Alan and Dan look for include an acceleration of earnings growth, an improvement in the quality of earnings or a strengthening of the company's competitive position.
The one change our investors will be excited about however, is a continuation of that 17-year record. While nothing is certain, and we are happy to search for change, that impressive track record is one thing we aim to continue.
If you would like to find out more, please visit the Montgomery website to download the Product Disclosure Statement: 
If you have any immediate questions, please call the Sydney office 02 8046 5000 and speak to David Buckland or Toby Roberts.
You should read the Product Disclosure Statement (PDS) before deciding to acquire The Montgomery Fund.
The issuer of units in The Montgomery Fund (ARSN 159 364 155) (Fund) is the Fund's responsible entity Fundhost Limited (ABN 69 092 517 087) (AFSL 233045). The Product Disclosure Statement (PDS) contains all of the details of the offer. Copies of the PDS and Target Market Definition (TMD) are available to download from www.montinvest.com and at https://fundhost.com.au/
An investment in the Fund must be through a valid paper or online application form accompanying the PDS. Before making any decision to make or hold any investment in the Fund you should consider the PDS and TMD in full.
The information provided does not take into account your investment objectives, financial situation or particular needs. You should consider your own investment objectives, financial situation and particular needs before acting upon any information provided and consider seeking advice from a financial advisor if necessary.
You should not base an investment decision simply on past performance. Past performance is not an indicator of future performance. Returns are not guaranteed and so the value of an investment may rise or fall.

Roger Montgomery

Source link