Cosmos Price Prediction for Today, October 30: ATOM Increases Points
October 30, 2022
Cosmos Price Prediction – October 30
There has been a continual buying moment in the ATOM/USD market operations as the crypto-economic market increases points. Currently, all the signs are positive as the crypto economy features around $13.71, leaving a tinier space between the high and the low values at an average of 1.69%.
ATOM/USD Market
Key Levels:
Resistance levels: $15, $16, $17
Support levels: $12, $11, $10

ATOM/USD – Daily Chart
The daily chart showcases the ATOM/USD market increases points over a trading spot of the SMA trend lines. The 14-day SMA indicator is at the $12.58 value line, above the $12.63 value line of the 50-day SMA indicator. The upper horizontal line drew at the $16 resistance level, and the lower counterpart drew at the $10 support level to show that the crypto economy is in a range-trading style. The Stochastic Oscillators have deeply dipped into the overbought region, keeping 99.20 and 98.81 range points.
Will the ATOM/USD market push for more ups toward the $16 resistance level?
Although the current ATOM/USD market trading outlook still possesses a buying momentum as the crypto-economic trade increases points. However, the growing capacity makes it uncertain if buyers would sustain some gains beyond the present range. A sudden shoot-up intending to test around the upper line will signify and attest the former-trading instrument will lose its stance against the latter.
On the downside of the technical analysis, the Cosmos market is to reduce the strength that will be less attractive to both the seller and investor. Traders will have to use a 1-hour chart to detect an early resumption of a selling force. An active motion has to surface falsely beneath the upper horizontal line to give in to a drawdown situation. About two or three bearish-trading candlesticks have to emerge around the $14 level to confirm the potentiality of bears pushing down the crypto valuation.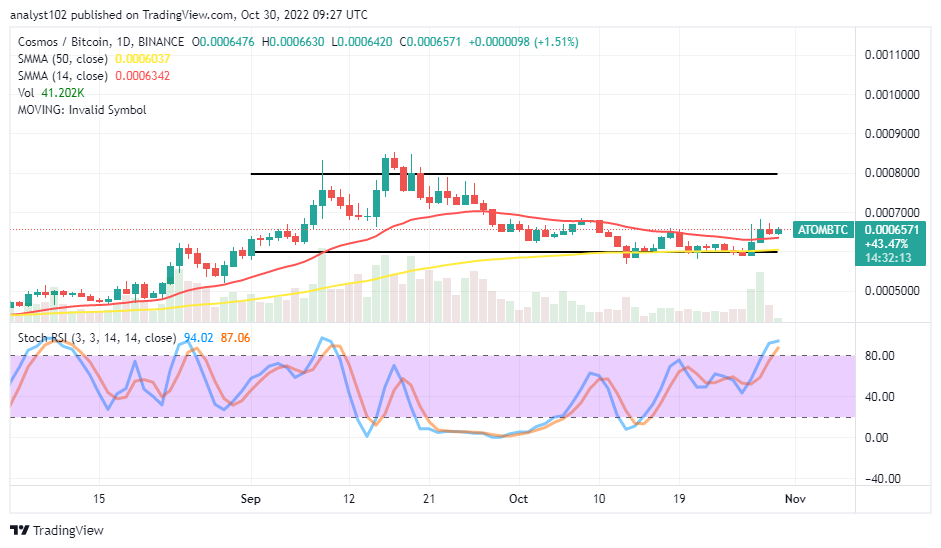 ATOM/BTC Price Analysis
Cosmos's trending capacity against Bitcoin has been pushing in high-range zones. After a while of retracing to a lower-high spot around the bigger SMA, the pairing crypto trade increases points briefly past the trend line of the smaller SMA. The 14-day SMA indicator is closely over the 50-day SMA indicator. The Stochastic Oscillators are in the overbought region. And they are at the range values of 87.06 and 94.02, trying to close their lines. That portends the base crypto has a lesser ideal force to stage against its counter-trading crypto.
Dash 2 Trade, a new cryptocurrency signal platform, aims to give all users access to retail trading. Through its presale, they have amassed $3 million for this objective.
Related
Dash 2 Trade – High Potential Presale
Active Presale Live Now – dash2trade.com
Native Token of Crypto Signals Ecosystem
KYC Verified & Audited
Azeez Mustapha

Source link