Researchers spin music CDs into flexible biosensors
November 1, 2022
Scientists in the New York State Binghamton University have found a way to remove the gold layer of a CD away from the plastic underneath, to then create the biosensors.
Specifically, they can monitor electrical activity in human hearts and muscles as well as lactose, glucose, pH and oxygen levels. The sensors can communicate with a smartphone via Bluetooth.
The work has just been published in Nature Communications.
To create the sensors, Binghamton researchers apparently used a Cricut cutter, an off-the-shelf machine that can cut designs from materials like paper, vinyl, card stock and iron-on transfers. The flexible circuits would then would be removed and stuck onto a person, and – with the help of a smartphone app – it could be possible to get readings and track a patient's progress over time.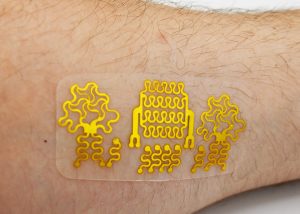 Assistant Professor Ahyeon Koh, from the university's Department of Biomedical Engineering, hopes to expand the CD-to-sensor research and involve the wider campus community.
"Maybe we can create a box on campus where we could collect CDs," she said. "We also could have more generalized step-by-step instructions on how to make them in a day, without any engineering skills. Everybody can create those kinds of sensors for their users. We want these to become more accessible and affordable, and more easily distributed to the public."
The system could potentially cost just $1.50 per device, they say.
And Another bonus: apparently, the fabrication process is completed (within 30 minutes) without releasing toxic chemicals or needing expensive kit.
Thanks to Nordic Semi's publication Wireless Quarter for highlighting this one.
See also: A Musical Variation of Arduino AI processing at the Edge

Alun Williams

Source link