Reviews Featuring 'Prodeus' & 'Ghost Song', Plus the Latest Releases and Sales – TouchArcade
November 4, 2022
Hello gentle readers, and welcome to the SwitchArcade Round-Up for November 4th, 2022. Our pal Mikhail came through big, so we've got two reviews for you to check out today. The hot-as-heck first-person shooter Prodeus and long-in-development Ghost Song get their time in the Judgment Chair. After that, we head into the new releases of the day. The highlights are It Takes Two and Harvestella, but there's plenty to consider. Finally, we've got the usual lists of new and outgoing sales. Let's close out the week!
Reviews & Mini-Views
Prodeus ($24.99)
It has been quite the ride for Nintendo Switch owners who have wanted to play Prodeus, the old-school first-person shooter with a modern twist. If you've not kept up with it, Prodeus launched in early access on Steam a while ago, and it finally released on Nintendo Switch last week following a wrong build being uploaded to the eShop. Just like Dusk, Prodeus is a shockingly good first-person shooter that deserves to be on your Switch if you're a fan of the genre.
While I did play Prodeus through its early access release, I only properly got deep into it closer to the PC version's launch a few weeks ago. Having played it on Xbox Series X, my laptop, Steam Deck, and now Nintendo Switch, I'm blown away by almost everything in Prodeus, and only have a few issues with it on Nintendo Switch right now.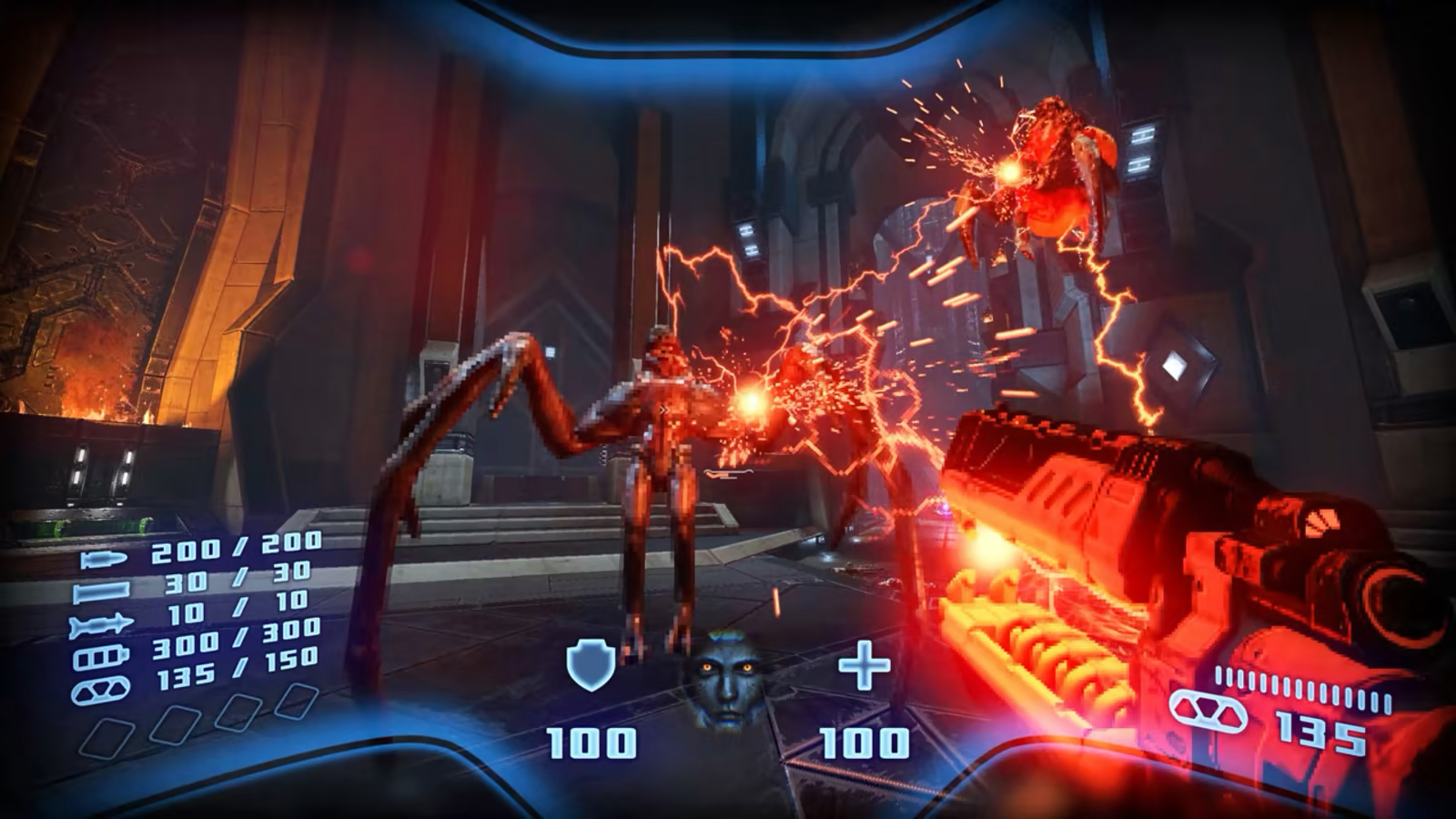 In addition to the hand-crafted campaign that is mostly brilliant with a few annoyances later on, you have access to multiplayer, and community created levels giving you tons of content right off the bat. While you could just play the awesome campaign, the multiplayer and created levels are superb. A few of the screenshots I've used in this review are from community created levels.
In a lot of ways, Prodeus reminds me of Octopath Traveler. I know that may sound shocking, but hear me out. Octopath Traveler took modern rendering and effects to old school pixel art and blended them together for a striking aesthetic. Prodeus is like that for old-school shooters. It uses modern rendering and effects bur still stays true to feeling like a "boomer shooter" if you may. It excels in what it sets out to do visually, and oozes atmosphere.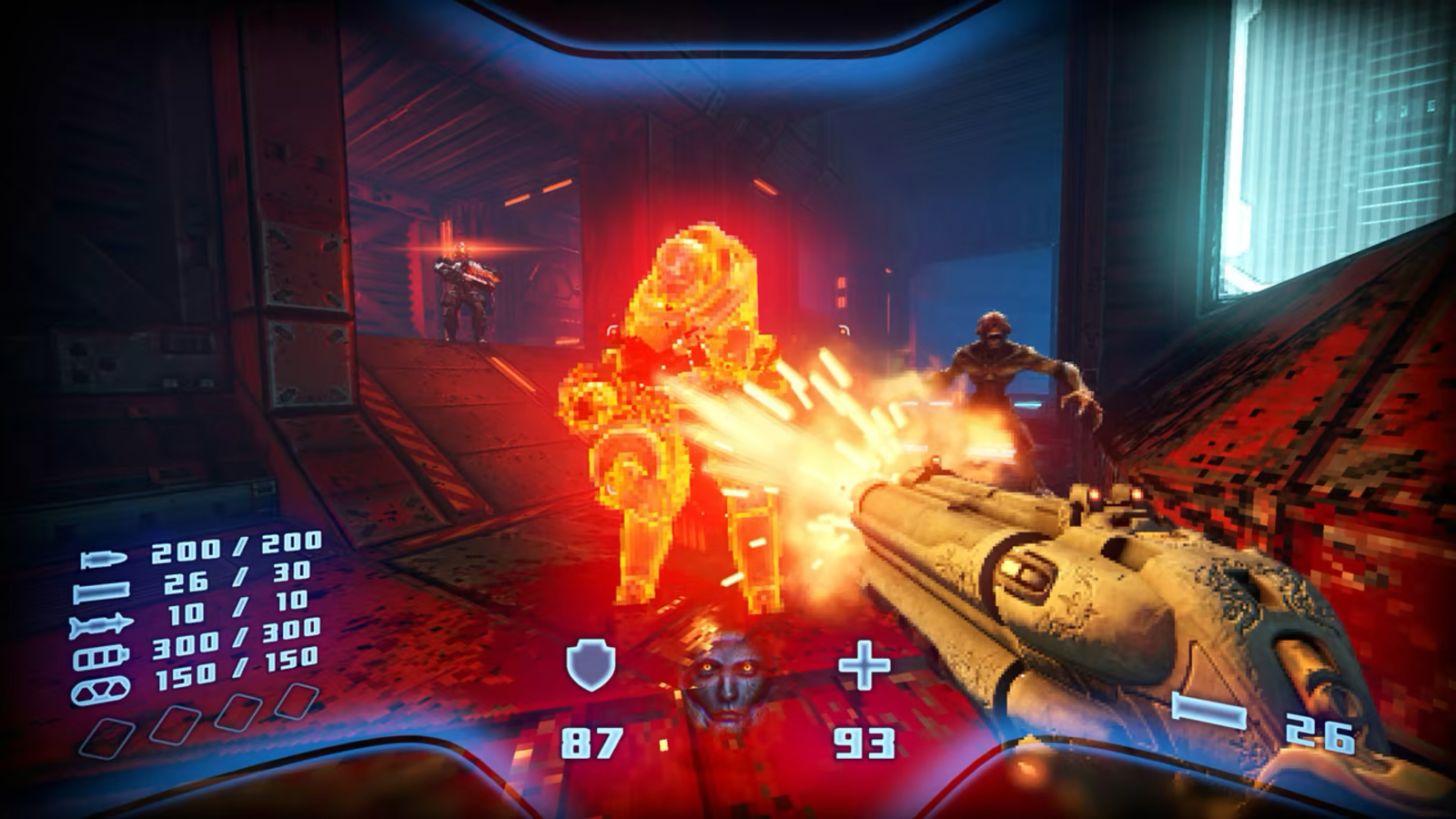 Beyond the style, Prodeus controls like a dream. Guns feel great, and it just feels like a brilliantly designed and polished shooter that is underpriced in its current state for what you get here. I just wish there was gyro support to make it feel like a more complete package when it comes to the Switch version.
Visually, Prodeus looks great on Nintendo Switch across the board. The performance is where things are a bit iffy. I hope a future update can add a 30fps cap because the performance is a bit too unstable for my liking in some situations. In situations like this, the Steam Deck version is a lot better. If you aren't too bothered by a fluctuating frame rate, this will not be an issue for you. I can see it being a big problem at higher difficulty levels though.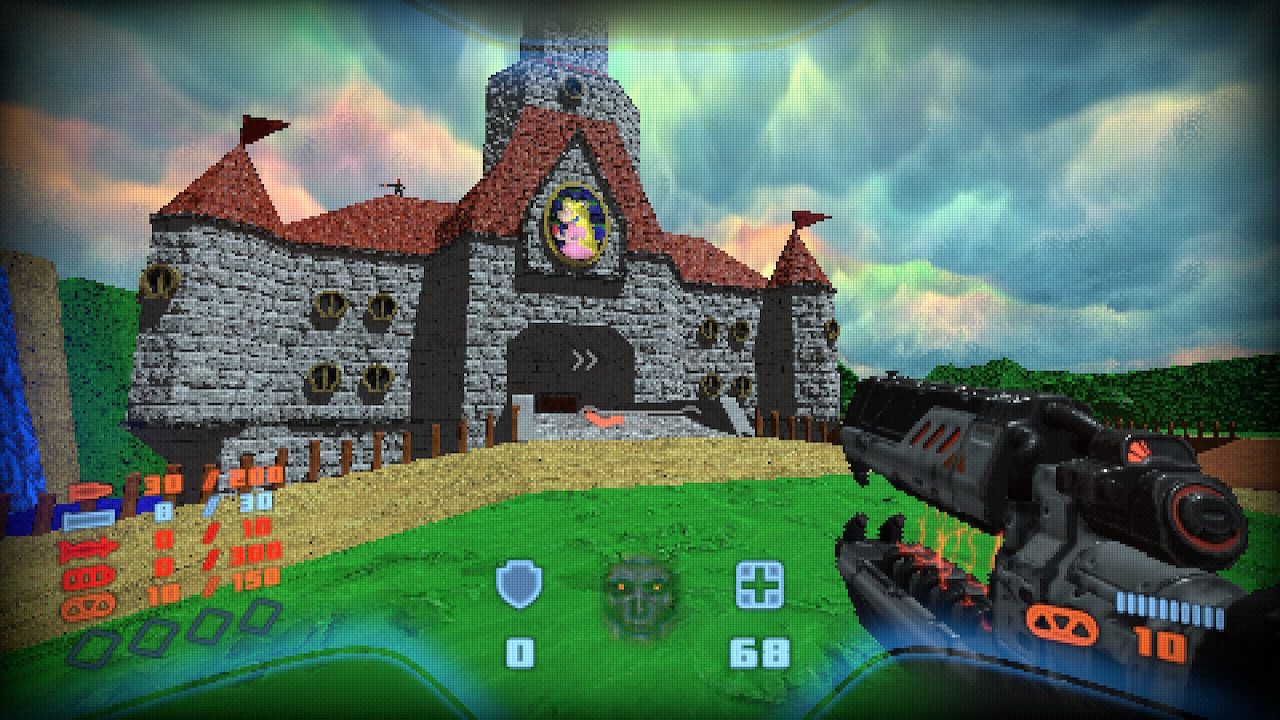 On the audio side of things, Prodeus might have one of Andrew Hulshult's best soundtracks yet. The music is sublime, and the audio design overall is basically perfect. He really knocked it out of the park with this soundtrack. I've been listening to it quite a bit recently outside the game as well.
Aside from the performance issues, my main issue with Prodeus on Switch is the lack of gyro aiming support. First-person or third-person games benefit a lot from gyro controls on Switch, and I hope Prodeus adds them in a potential future update.
While I do enjoy comparing different platforms to help you decide where you should grab a specific game, Prodeus having cross platform sync with ProNet (in-game account) means I recommend grabbing it on everything if you have the means to. It is that good. The Switch version isn't as smooth as Steam Deck, but the developers have done a very good job with it. Hopefully performance can be improved or a 30fps cap can be added in the future.
While the Switch performance isn't perfect, I'd be lying if I said I didn't have a ton of fun throughout my time with Prodeus on Nintendo Switch. I love being able to sync across Steam Deck, my laptop, and Nintendo Switch thanks to the in-game account, and having access to the complete experience with no compromises on the content side on Nintendo Switch makes this an essential for first-person shooter fans. Games like Prodeus and DUSK are absolutely gems that you owe it to yourself to play if you, like me, enjoyed Doom back in the day. Now I just need a vinyl soundtrack announced to go alongside the physical release coming. -Mikhail Madnani
SwitchArcade Score: 4.5/5
Ghost Song ($19.99)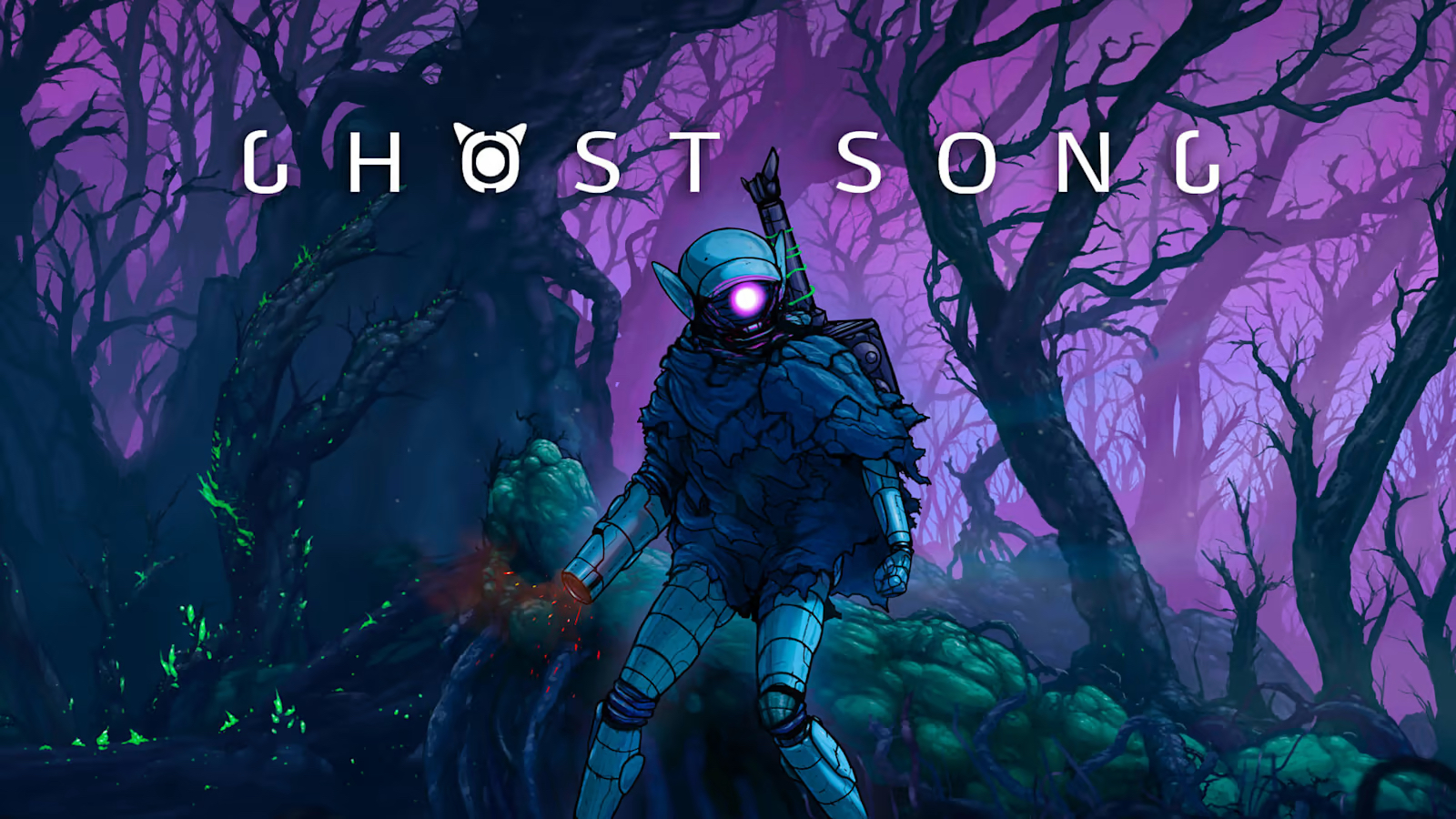 When I was offered a review code for Humble Games and Old Moon's Ghost Song, I was intrigued by the premise and the gameplay trailer. Having now played it on Steam and Nintendo Switch, the atmospheric 2D Metroidvania ended up addressing some of my issues with recent games in the genre, but also manages to stand on its own thanks to its gorgeous world, the atmosphere, and narrative. While it does borrow from a few other games, Ghost Song does enough to be worth checking out.
I actually had no idea that Ghost Song was a game in development for so long when I started playing it on Steam. I was floored at how good many aspects of it are, and despite some issues, it is now one of the better games I've played this year. I also regret not paying attention to it sooner because Ghost Song visually is exactly what I want from a Metroidvania. Sadly, Ghost Song on Switch is a bit lacking when it comes to performance.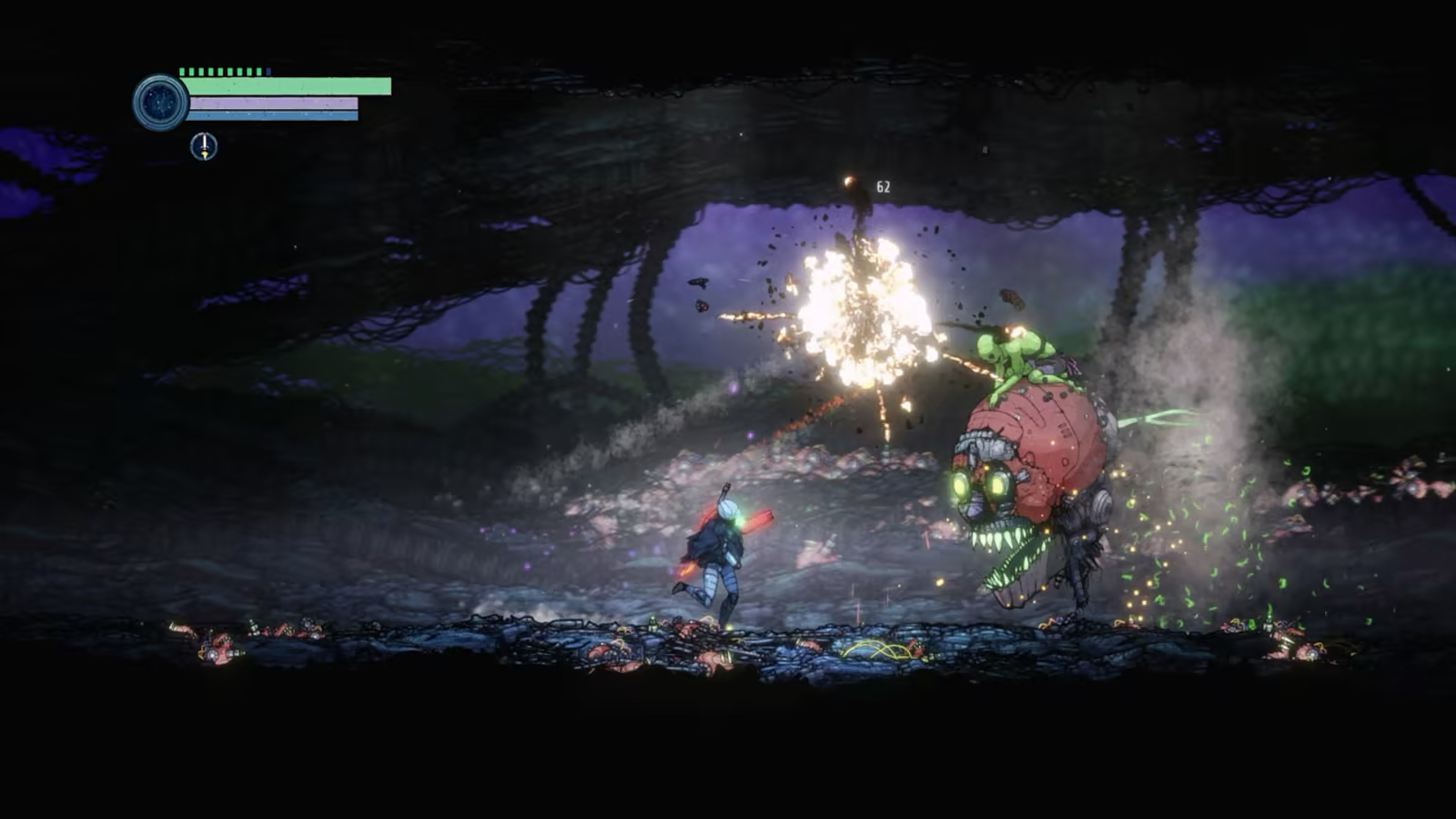 When I first started playing Ghost Song, I found the movement a bit jarring, but quickly got into the flow of the combat and exploration. I'm glad I was wrong when I initially felt like it might just be trying to ape other games in the genre, because Ghost Song feels like a blend of a genre greatest hits experience and its own thing. You also have access to an easier difficulty option, but keep in mind that you can't swap in a save once you begin playing.
Visually, Ghost Song is gorgeous. I really am shocked at how good the enemy designs, environments, and some of the animations are in Ghost Song. Another highlight as a part of the sound design is the soundtrack by Grant Graham. It definitely elevates the experience and is worth checking out even once you're done with the game.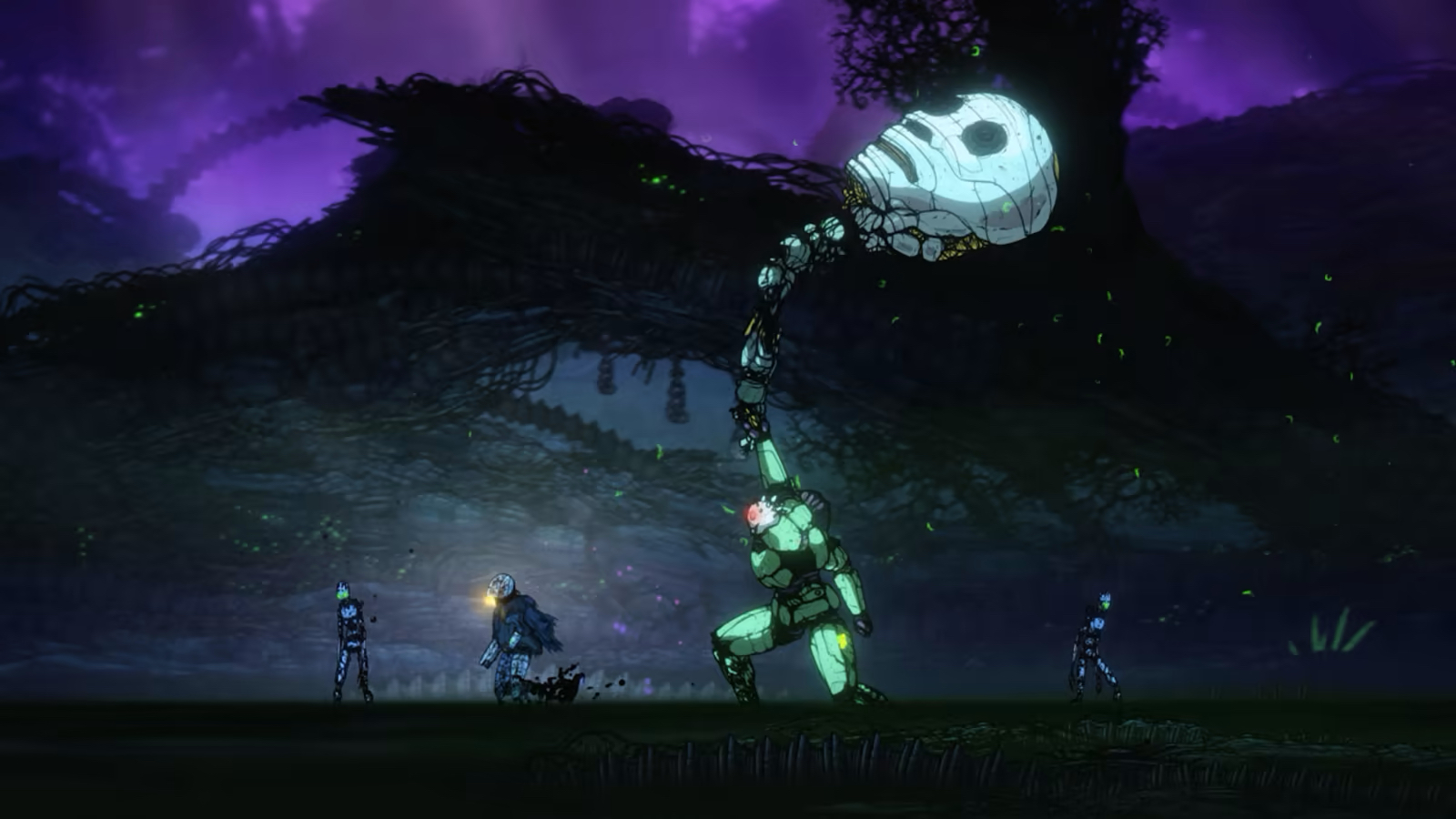 The only thing holding me back from wholeheartedly recommending Ghost Song to everyone is the performance on Nintendo Switch. I had already finished Ghost Song on PC before I played it on Switch for this review, and it was a better experience there. I hope these performance issues can be addressed because Ghost Song definitely feels perfect for Nintendo Switch. Right now, the game itself is an easy recommendation, but the Nintendo Switch version needs a bit of work. -Mikhail Madnani
SwitchArcade Score: 4/5
New Releases
It Takes Two ($39.99)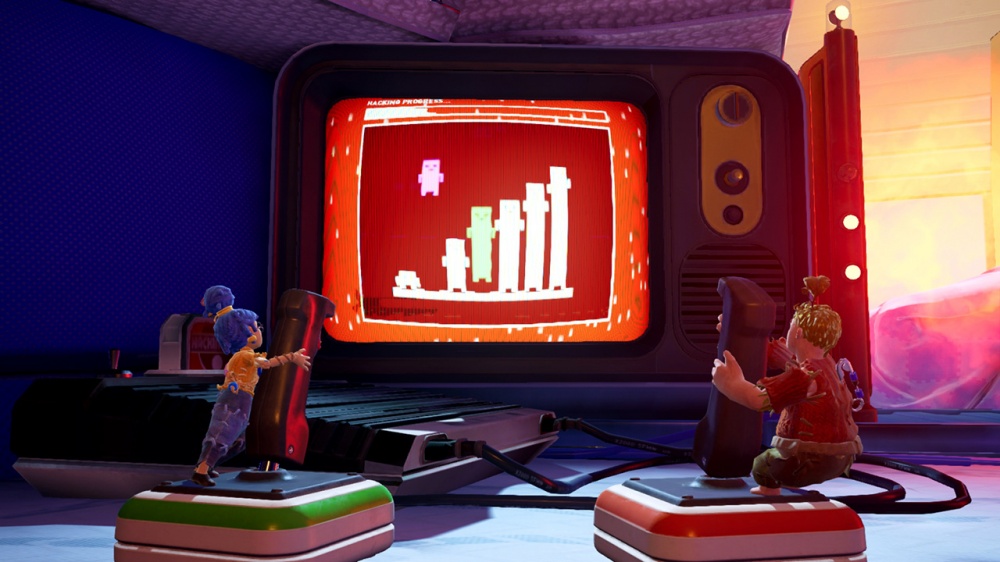 The award-winning co-op platformer comes to Switch in this port. You can play with another player via local or online multiplayer, and the second player doesn't even need to own the game so long as you do. I want to make it very clear: this game requires two players. You can't play alone. Right there in the title. It takes two. Provided you can check that box off, this is a well-made, sometimes uncomfortable tale of a broken relationship and how it can be fixed through the magic of fantasy and wishing hard enough.
Harvestella ($59.99)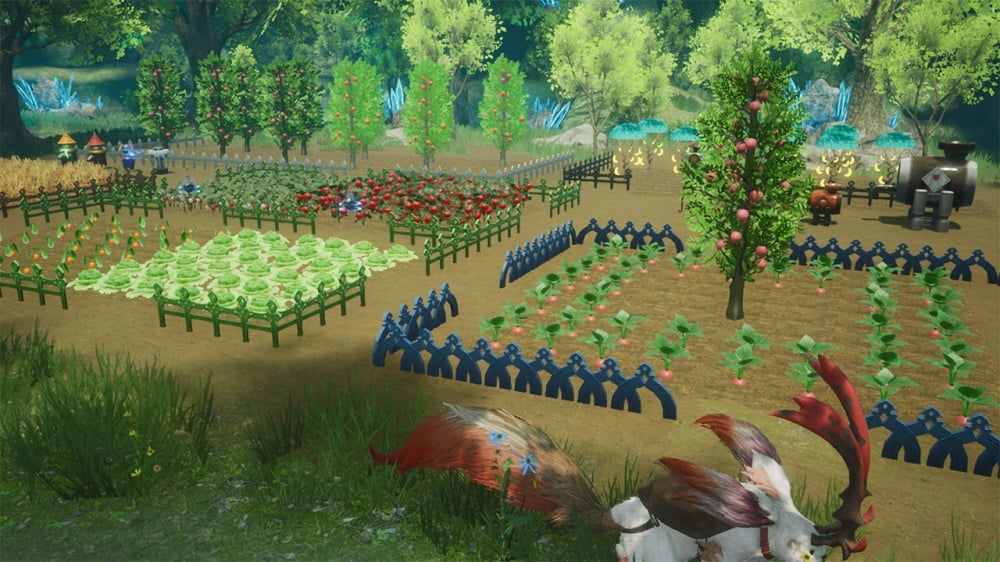 I'm amused at the excessive use of quotation marks in this game's eShop description. Imagine Dr. Evil reading it and doing the finger quotes for each instance for extra laughs. Anyway, this is a farming RPG from Square Enix. Final Farmtasy, if you will. It seems to work a lot like most other farming RPGs, but it has shiny graphics and an epic story with lots of fancy made-up terms to describe things. I haven't been able to dig into the game, so I can't really say if it's a must-have or not at this point. I will say that Square Enix seems to have put a whole-butt effort into it, and that tends to bode well for the resulting quality.
Stack Up! (or dive trying) ($9.99)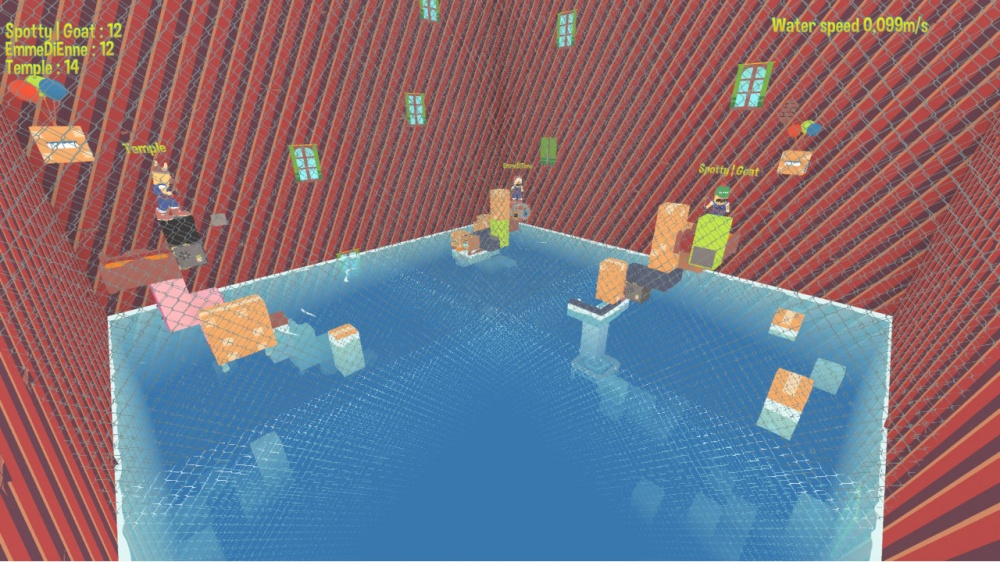 The idea here is that you need to stay above the rising water by building stacks to keep climbing upwards. You can play alone or hop online to play with up to four players. You can unlock new hats and hammers to customize your character with. This strikes me as something that might be more fun in local multiplayer, but at least it has multiplayer.
From Space ($14.99)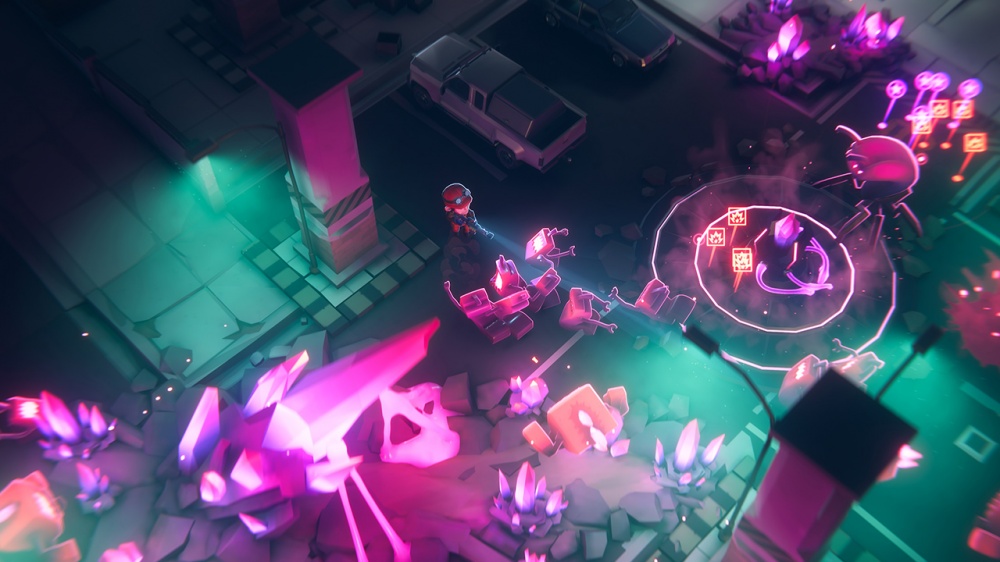 Phew, that's a lot of pink. This is a top-down shooter where you have to save the Earth from hordes of pink aliens. Up to four players can team up via online multiplayer, and there are lots of different characters to pick from so that everyone can have their own thing going on. A bunch of weapons, level-ups, special abilities… you probably know how this kind of game works by now. This is one of them, and a fairly well-made one at that. But very pink!
Bratz: Flaunt Your Fashion ($39.99)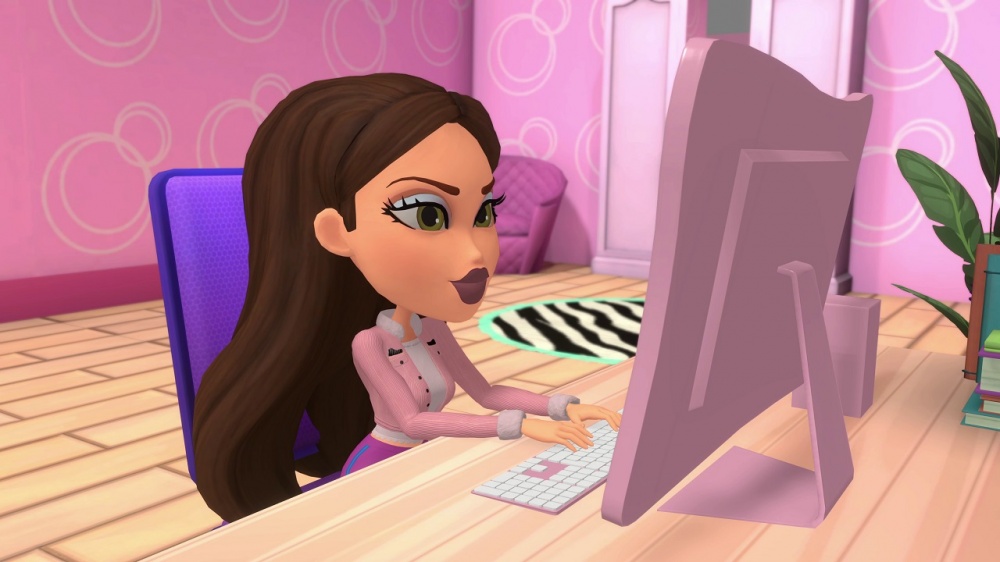 Gee, Outright Games is just cranking them out lately. Here's a game based on the popular toy line. Play as Sasha, Jade, Cloe, or Yasmin as you go on a fashion adventure. Chase style stories, play some mini-games, complete side-quests, and use the money you earn to customize your character with new threads. Clearly not aimed at an old guy like me, but maybe you have a Bratz fan in the house that will appreciate it.
Aeterna Noctis ($29.99)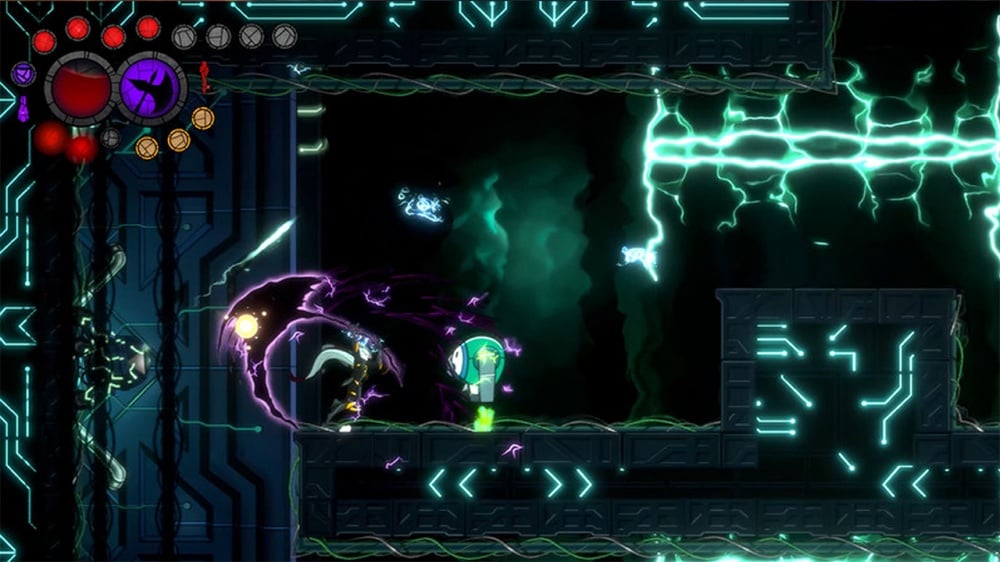 I could have sworn this was already released, but I guess not. It's a Metroidvania-style exploratory platformer with an emphasis on combat. If that sounds a lot like Hollow Knight, well… I think that's probably one of the inspirations here. It's kind of got that problem where it's not really dropping the ball in any way but also isn't doing anything interesting enough to stand out. Fans of the genre will probably enjoy it anyway.
7 Days of Rose ($4.99)
Michael is a normal boring high schooler who takes a one-week trip to a tropical island in this visual novel. There, he meets a girl named Rose who flips his world upside-down. He's only got seven days with her, but what secrets does she hide behind her smile? There are three different endings based on the choices you make throughout the game.
Sakura MMO 3 ($9.99)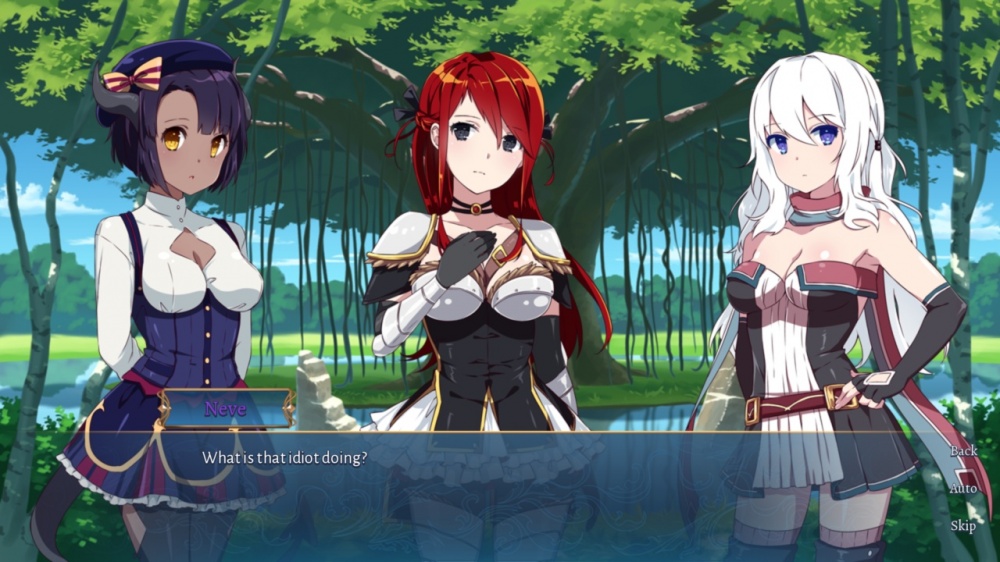 This third game in the visual novel series concludes the story of Viola and her quest in the fantasy world of Asaph Online. The fallen goddess Iona has arrived, and she means to end the world. Only Viola can stand between her ambitions and total destruction. Make your choices and see how it all ends up!
Arcade Archives Itazura Tenshi ($7.99)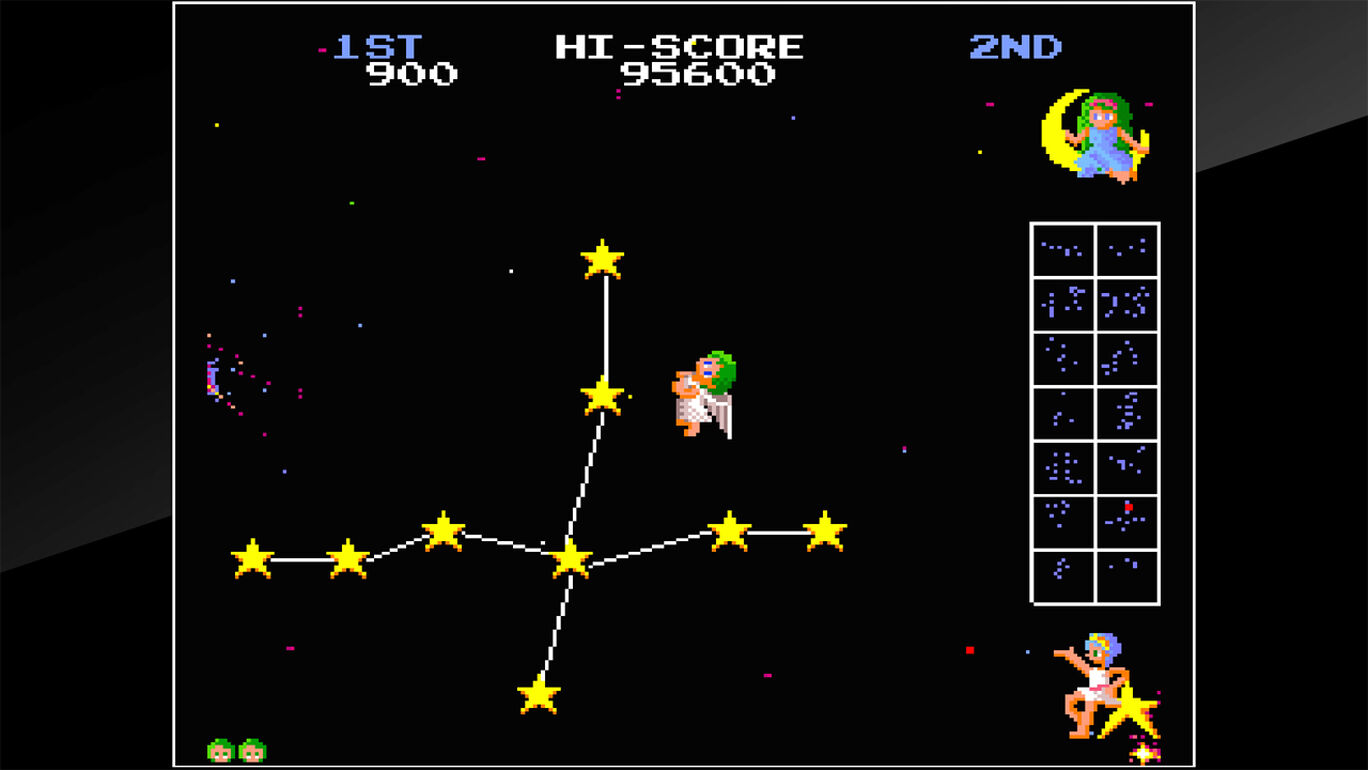 We're heading into the bushes again for this week's Arcade Archives. Hamster's pulled a Nichibutsu game from the pile of defunct company IP it owns, and it's the 1984 release Itazura Tenshi. You play as an angel that needs to restore constellations by joining their stars, while fending off enemy attacks. Others have compared it to Namco's Bosconian, and I reckon I will too. It's not bad, though the jingle every time you fix a constellation really gets annoying after a few minutes.
Weedcraft Inc ($24.99)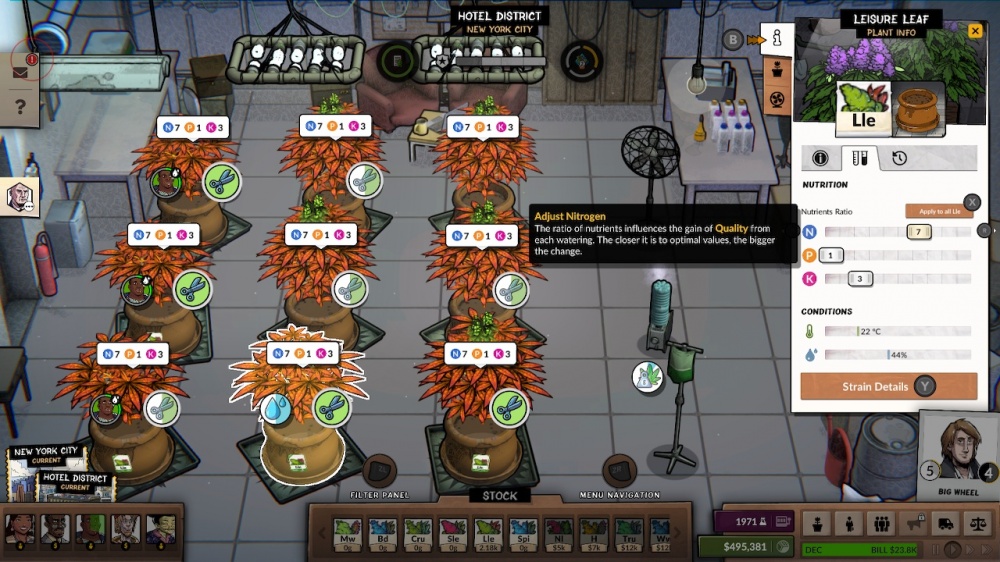 We've come so far from the days where cigarettes and beer had to be censored in the localization process, haven't we? Now we have full-on marijuana business sims on our game consoles, right there next to Mario and Pikachu. Anyway, this is a very detailed sim that goes a lot deeper than just growing weed. It's as much about the business of it all as it is creating the product. It's a bit on the repetitive side, so unless you've got a special interest in the subject matter you're probably going to get tired of it pretty quickly.
Volleyball Trainer: The Legend of Sports ($3.99)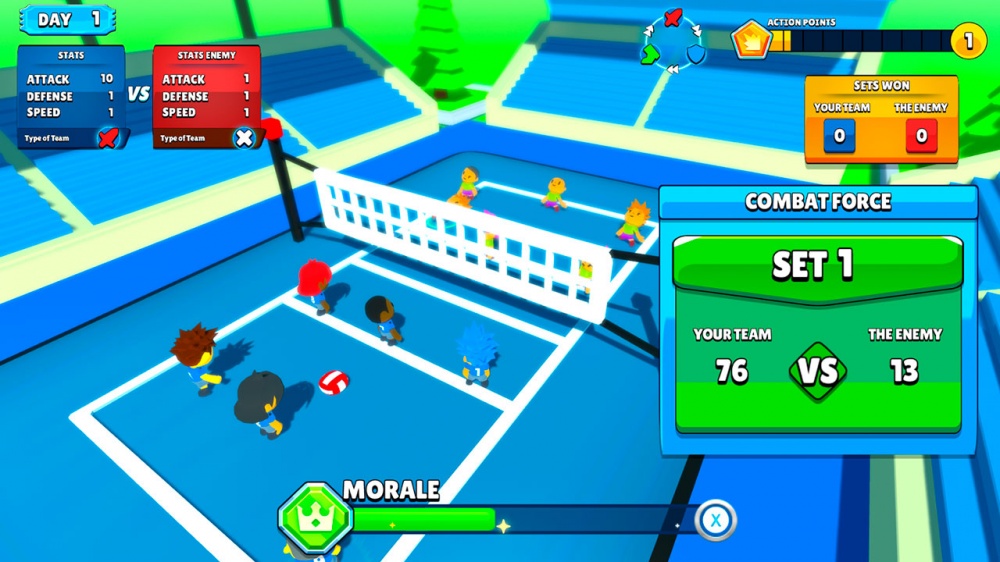 Oh joy, Cooking & Publishing is back. This one claims to be a mash-up of a card game and arcade-style mini-games, and that appears to check out. Play your cards to give yourself the edge in the mini-games and train your volleyball team. Probably not very much meat on the bone here, but I'm not dropping four bucks to find out.
Snow Madness ($9.99)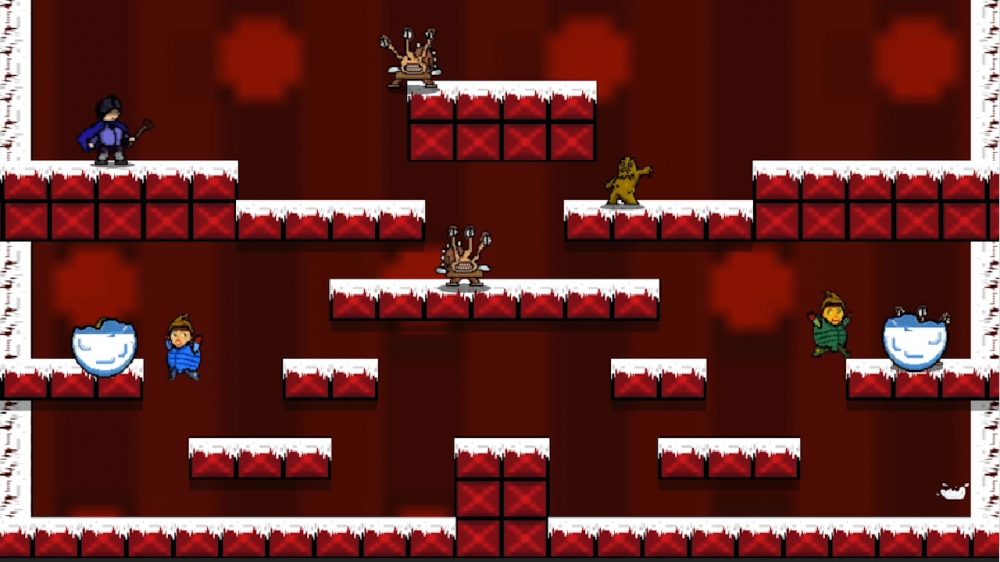 This is a pretty shameless copy of Toaplan's Snow Bros., which is also available on Switch via a remake. And I really do mean it when I call it a copy. It even uses some of the same level layouts. Personally, I don't want to reward such behaviors with my money. You can do what you like.
Mission Commando ($3.99)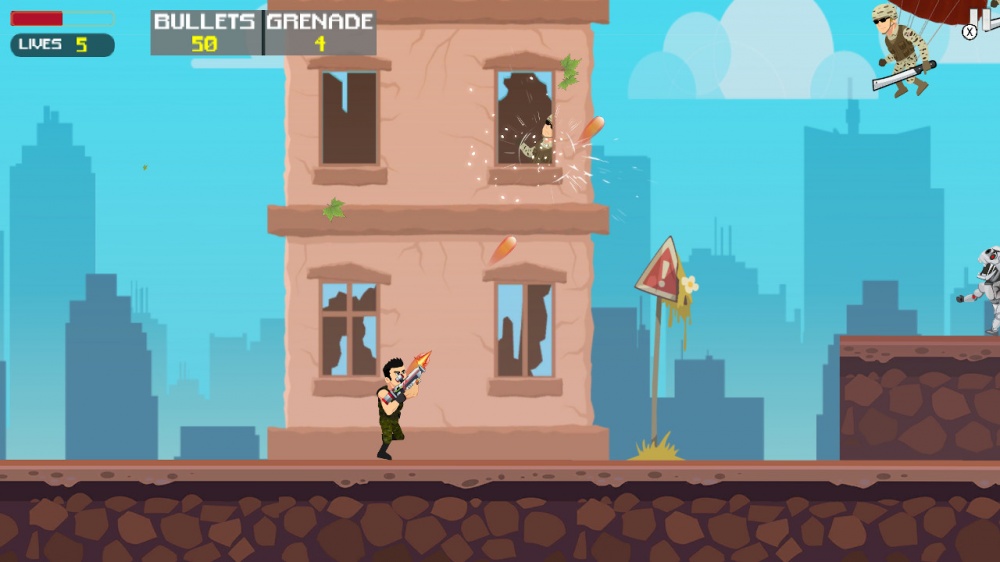 More complete junk from Pix Arts. More than likely cobbled together from a Unity Asset Store template of some kind, but I can't be bothered to search it out. It's a run-and-gun in the vein of games like Contra and Metal Slug, which is about the same as saying I'm a sprinter in the vein of athletes like Usain Bolt and Tyson Gay. Look, find a few more dollars and treat yourself to a Metal Slug game. You deserve better.
Sales
(North American eShop, US Prices)
Honestly, I expected a bigger list. But this is good. Tribute Games is having a spicy sale with new low prices on the likes of Flinthook, Panzer Paladin, and Steel Assault. There are a few Kairosoft sims on sale, some Game Mill stuff, and a few other odds and ends like Eastward. There isn't too much in the weekend outbox, but if you're checking one list anyway you might as well check both.
Select New Games on Sale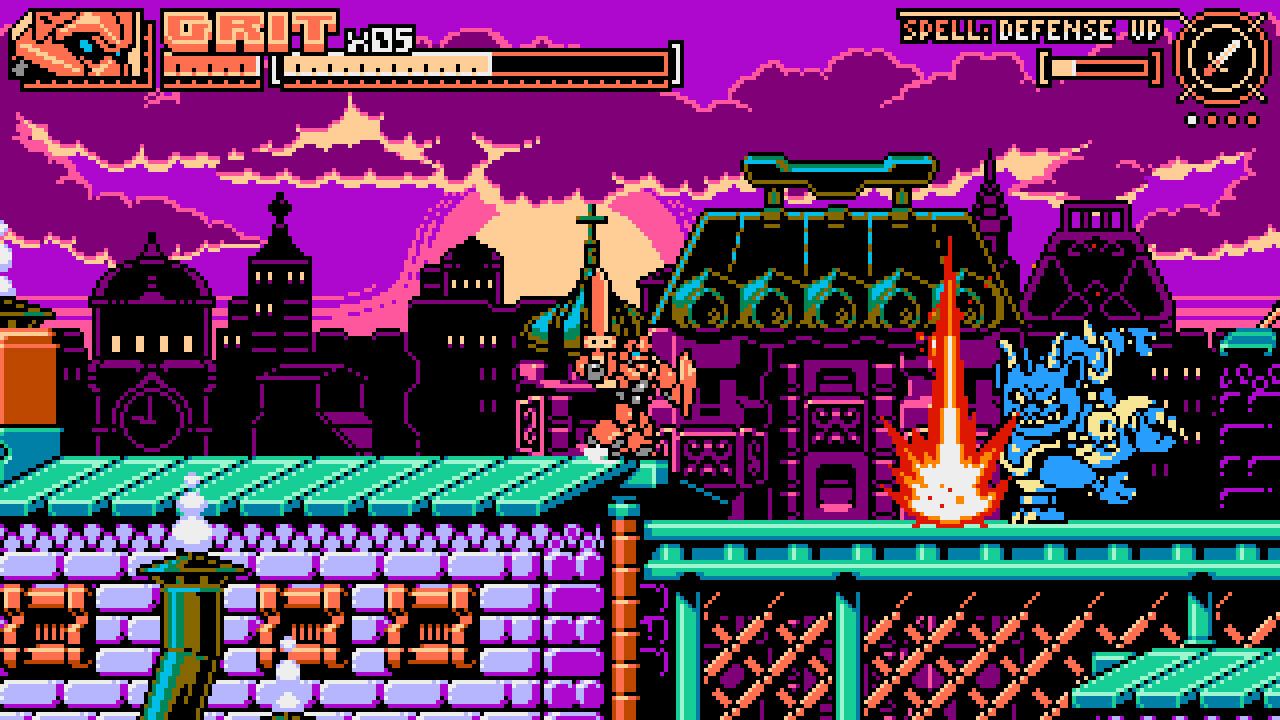 Panzer Paladin ($7.99 from $19.99 until 11/7)
Steel Assault ($5.99 from $14.99 until 11/7)
Mercenary Kings: RE ($7.99 from $19.99 until 11/7)
Flinthook ($5.99 from $14.99 until 11/7)
Wizorb ($3.74 from $4.99 until 11/7)
Innocence Island ($9.99 from $19.99 until 11/10)
Rush Rally 3 ($7.49 from $14.99 until 11/11)
Concordia Digital Edition ($14.99 from $24.99 until 11/11)
Pirated Code: Admin Edition ($9.89 from $10.99 until 11/12)
Writhe ($2.49 from $9.99 until 11/14)
Sudoku Zenkai ($3.49 from $4.99 until 11/14)
Winds of Change ($9.99 from $19.99 until 11/17)
WARSAW ($3.99 from $19.99 until 11/17)
Dead or School ($8.99 from $29.99 until 11/17)
Assault Gunners HD Edition ($4.99 from $9.99 until 11/17)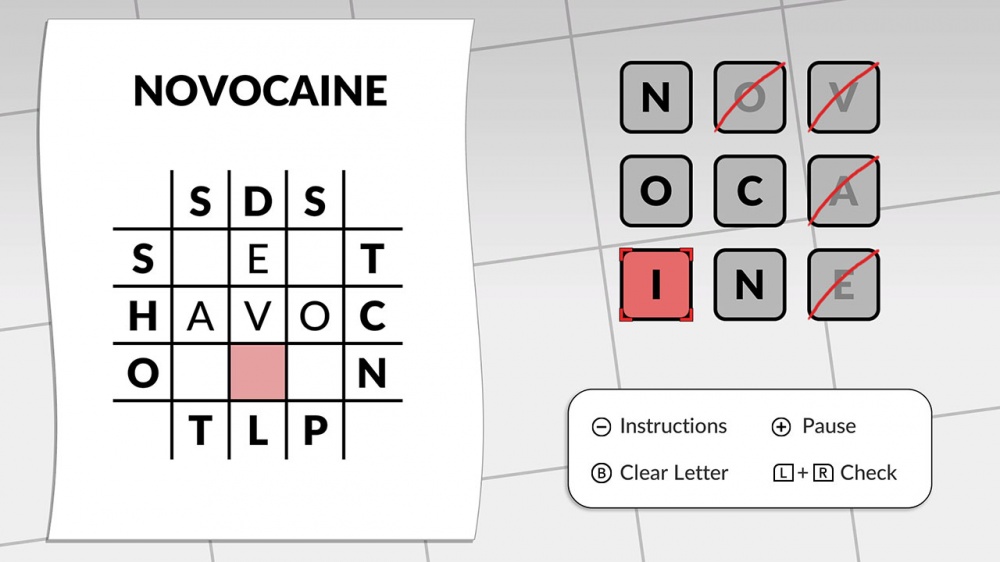 Letterbox by POWGI ($3.99 from $7.99 until 11/18)
Eastward ($14.99 from $24.99 until 11/18)
From Space ($11.99 from $14.99 until 11/18)
Super Cyborg ($2.99 from $6.99 until 11/22)
Nerf Legends Digital Deluxe ($11.99 from $59.99 until 11/24)
Street Outlaws 2 Digital Deluxe ($11.99 from $59.99 until 11/24)
NHRA Championship Racing ($24.99 from $49.99 until 11/24)
NHRA Championship Racing Deluxe ($29.99 from $59.99 until 11/24)
NHRA Championship Racing Ult. ($39.99 from $79.99 until 11/24)
Mutant Mudds Collection ($4.99 from $19.99 until 11/24)
Xeodrifter ($4.99 from $9.99 until 11/24)
Soccer Slammers ($4.99 from $9.99 until 11/24)
Basketball Club Story ($7.00 from $14.00 until 11/24)
Tennis Club Story ($7.00 from $14.00 until 11/24)
Boxing Gym Story ($8.40 from $14.00 until 11/24)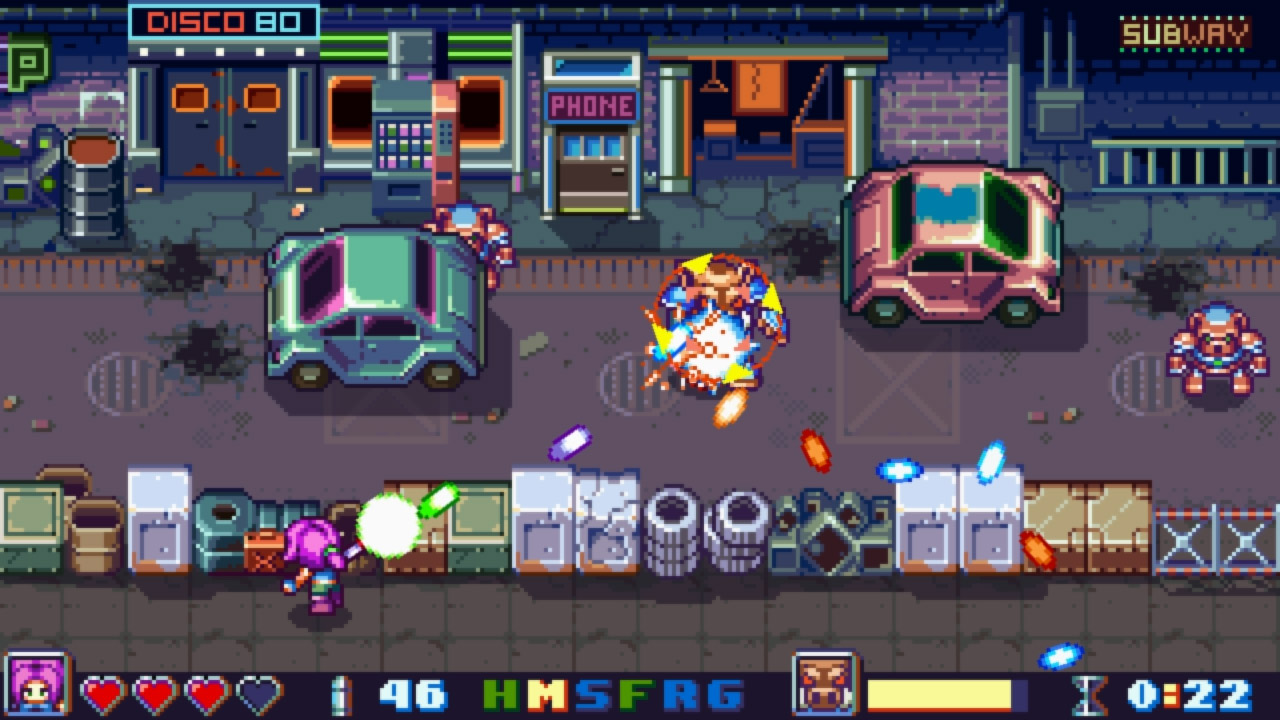 Bot Vice ($1.99 from $9.99 until 11/24)
Fashion Princess ($1.99 from $9.99 until 11/24)
Magic Code ($1.99 from $12.48 until 11/24)
They Bleed Pixels ($1.99 from $14.99 until 11/24)
Monster Destroyer ($3.56 from $7.13 until 11/24)
Multi Race: Match the Car ($2.99 from $9.99 until 11/25)
Sales Ending This Weekend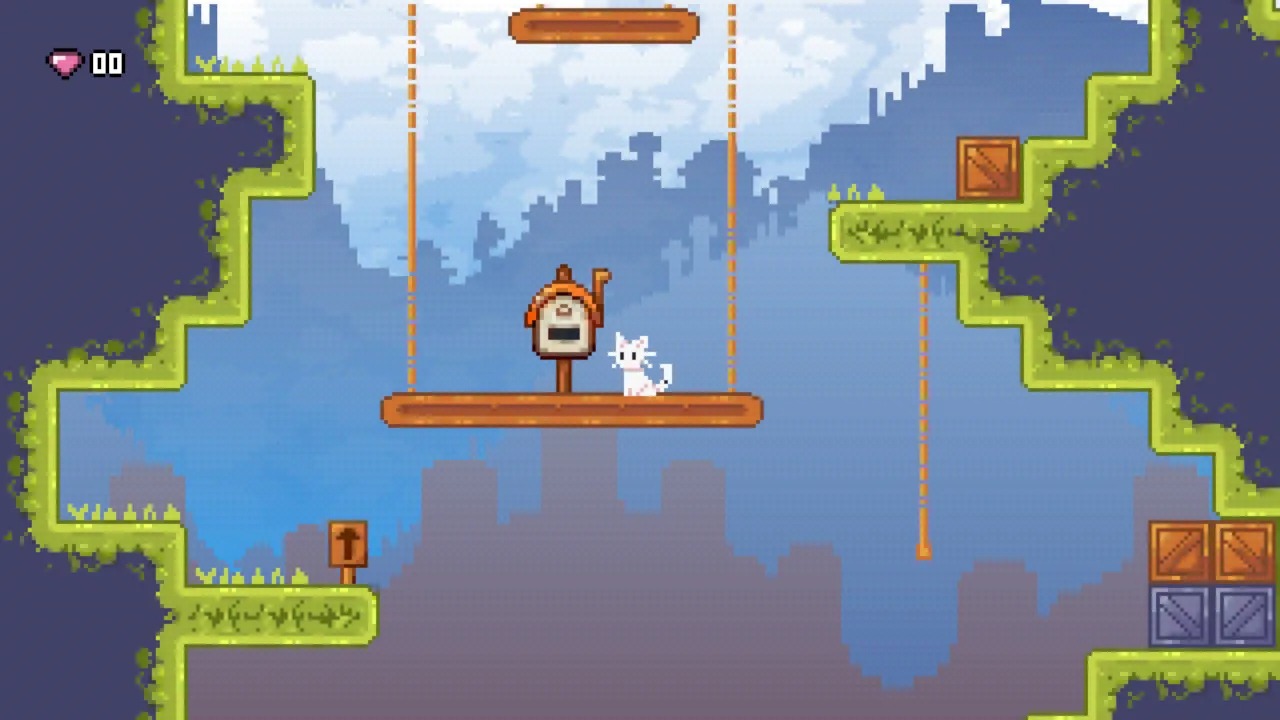 .cat ($1.99 from $9.99 until 11/5)
Aerial_Knight's Never Yield ($5.99 from $11.99 until 11/5)
Asterix & Obelix XXL 3 ($4.49 from $29.99 until 11/5)
Dadish 3 ($1.99 from $9.99 until 11/5)
Escape Game Fort Boyard 2022 ($17.99 from $29.99 until 11/5)
Fireworks ($4.49 from $14.99 until 11/5)
Garfield Kart Furious Racing ($4.49 from $29.99 until 11/5)
My Universe: Green Adventure ($17.99 from $29.99 until 11/5)
Syberia ($2.23 from $14.99 until 11/5)
The Quest for Excalibur Puy de Fou ($17.99 from $29.99 until 11/5)
The Smurfs Mission Vileaf ($19.99 from $39.99 until 11/5)
Animal Rivals: Up in the Air ($5.39 from $11.99 until 11/6)
Cardaclysm Shards of the Four ($4.49 from $14.99 until 11/6)
Colt Canyon ($4.49 from $14.99 until 11/6)
Flewfie's Adventure ($5.99 from $9.99 until 11/6)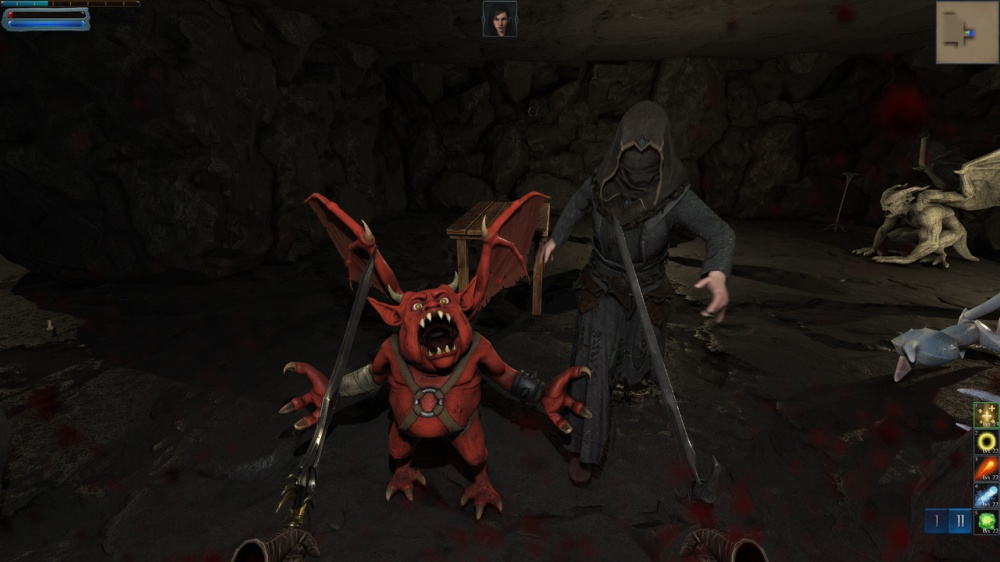 Into the Dark ($17.49 from $24.99 until 11/6)
Kosmonavtes Academy Escape ($1.99 from $5.99 until 11/6)
Kosmonavtes Escape Reality ($1.99 from $3.99 until 11/6)
Outbuddies DX ($5.39 from $17.99 until 11/6)
Panmorphia ($1.99 from $5.99 until 11/6)
Panmorphia Awakened ($2.99 from $6.99 until 11/6)
Panmorphia Enchanted ($1.99 from $3.99 until 11/6)
Pinku Kult: Hex Mortis ($5.99 from $9.99 until 11/6)
Pixel Heroes Mega Byte & Magic ($4.49 from $14.99 until 11/6)
Pixel Puzzle Makeout League ($3.74 from $14.99 until 11/6)
Pumpkin Jack ($11.99 from $29.99 until 11/6)
Silver Chains ($7.49 from $24.99 until 11/6)
Squeakers ($1.99 from $2.99 until 11/6)
Squeakers II ($1.99 from $2.99 until 11/6)
The Coma 2: Vicious Sisters ($4.49 from $14.99 until 11/6)
The Coma: Recut ($4.49 from $14.99 until 11/6)
Words Puzzles 3 in 1 ($3.59 from $3.99 until 11/6)
That's all for today and this week, friends. We'll be back next week with a ton of great new games like Sonic Frontiers, Sifu, Tactics Ogre: Reborn, and Atari 50. There will be more reviews, more sales, some news, and a lot of laughs. Okay, maybe tears. We'll see. I hope you all have a wonderful weekend, and as always, thanks for reading!
Shaun Musgrave

Source link