No series creator and writer transports viewers to another era quite like Julian Fellowes, the creative genius who made Downton Abbey an irresistible pleasure trip back in time to a titled family mansion in turn-of-the-century Yorkshire. Now, Fellowes is at it again, with a series that welcomes you into the upper-class world (and that of their below-stairs help) of 1880s New York, a city on the edge of its boom years while still strictly divided between "old money" and "new money."
Once you learn where to watch The Gilded Age, get ready to settle in for a while. The fantastic cast, gorgeous sets, and seamless CGI images bring old-world New York City back to life, and you're going to want to stay awhile! You can watch it now on HBO Max.
Watch The Gilded Age on HBO Max
The Gilded Age Is Born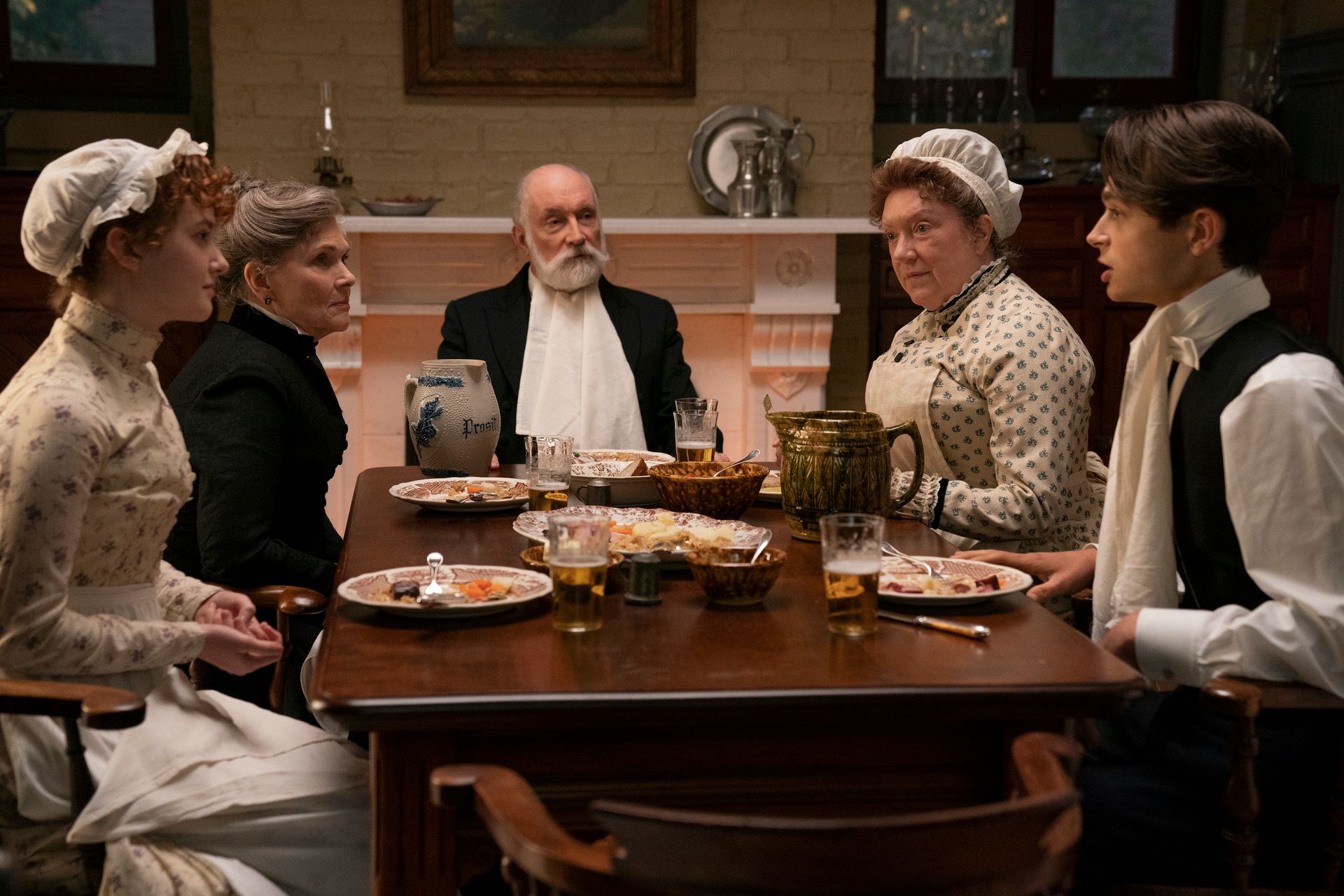 Julian Fellowes, calls the series the fulfillment of a creative dream he'd entertained for years. The period of American history when railroad tycoons and robber barons became suddenly astoundingly rich and began rubbing elbows with New York's oldest families, including the Astors and Vanderbilts, makes for compelling story-telling. His idea for the series initially grew from his vision of creating a Downton Abbey prequel series set in New York City during the courtship of New York socialite Cora Levinson and English Lord Grantham. While Downton fans still hope the couple will at least make an appearance in the next season — set for release in early 2023 — The Gilded Age shifted focus to some engaging new characters and an entirely new storyline.
The Gilded Age begins on New York's East 61st Street where a fabulously wealthy "new money" family, The Russels, move into an immense and sparkling new mansion directly across the street from a pair of aging sisters (Cynthia Nixon and Christine Baranski) from the "old money" era of the city. Bertha Russel — played by Carrie Coon — has a relentless, single-minded drive for acceptance by the city's oldest names, especially that of trend-setting, social matron, Mrs. Astor. Meanwhile, young Marian Brook moves to the city to live with her aunts after her father leaves her penniless. A mishap on the train forges an instant bond between Marian and a young black woman who dreams of writing a novel.
In classic Julian Fellow's style, the downstairs drama in the servants' quarters provides a refreshing foil for the showier emotional display upstairs throughout the first season.
Where to Watch the Gilded Age
You'll enjoy your own trip back to New York's gilded age, a time when Caroline Astor's roomy brownstone mansion still stands at the site of what's now the Empire State Building and the Statue of Liberty is under construction. With beautiful cinematography and an immensely talented cast — including Meryl Streep's daughter, Louisa Jacobson, as Marian, and Nathan Lane in a fun recurring role — the past comes realistically to life on your screen.
You can watch The Gilded Age right now on HBO Max and enjoy a tour of New York's palatial historic homes during the early boom of capitalism and the explosive first mixing of the classes.